DRESS DENIM SHIRTS - LIGHT BLUE BUTTON DOWN COLLAR
COPY ON THE SHIRT TO COME
_
THE DON'T FEAR THE REVERB COIN
Add to Cart button VIEW CART BUTTON Add to Cart button FOR DANGERMAN View Cart button FOR DANGERMAN
_
DFR COIN
THEY ARE READY!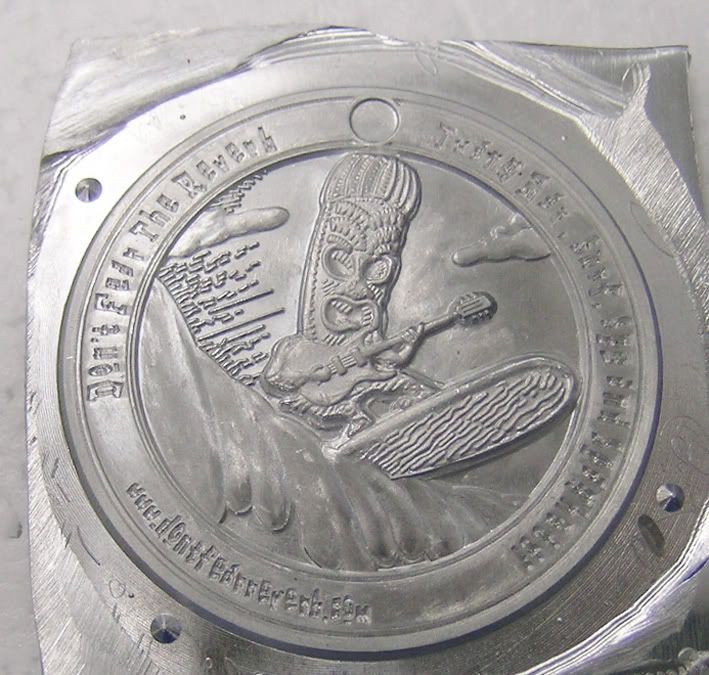 (It was almost ready as of nov 1st 2007. over a year in the design and making process. ) I have one set of prototypes already. Of them ther are 6 ONLY! they are all numbered 0213. Ralph, Sonny and I each have one. I gave one to Dave, a guy I worked with last summer who used to do lighting for U2 and is good pals with them. They took an album cover design "coexist" from a tatoo on his arm. Another I gave to help him remember to hire us as he promised. Henry is the drum tech for the Dave Mathews Band and he had most recently moved to our fair city from Virginia. He lives off of Reading Road with his wife and kids and has promised to hire us for a big pool party next summer. The last one may return to me as it is with the manufacturer. I should have a whole new set in a few days. New and Improved! The coin has a hole in it. It is designed to be functional. Add a travel bug to it and make it a geocoin. Add a keyring and make it a fob. I am going to add it to a guitar strap with little surf board coins and little fish and a woody coin. It could be a zipper pull for your gig bag or your beach bag. It would be fun to dive in the pool to hunt for with your fins on. Any other suggestions?
Don't Fear the Reverb Coin #1 buy it soon
To order one or more coins - use the Purchase this coin using Pay Pal, the rest should come easy BUT make sure to say which finish or finishes you want.